Year 11 Prom!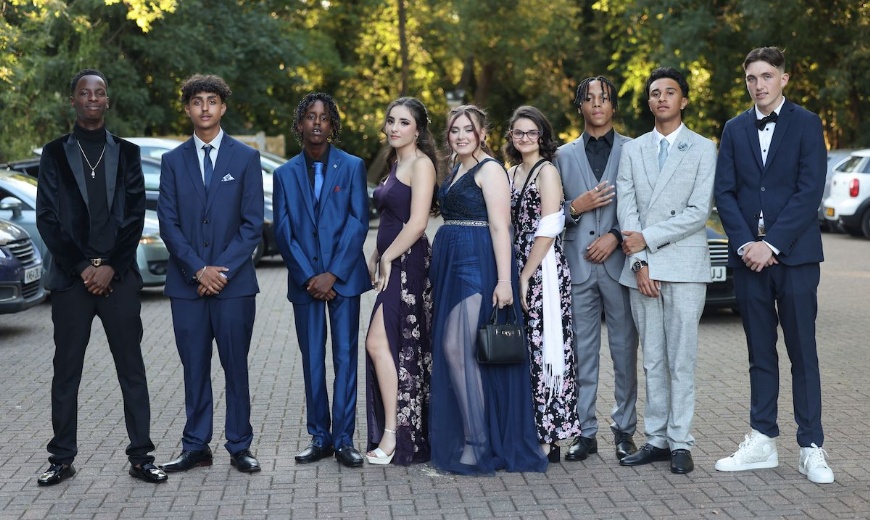 Friday 15th July saw a return to the pageantry of The Rosedale Hewens Academy Trust's Year 11 Prom at the Q Vardis and The Mallard Suite after a two-year hiatus, and it returned with a BANG!
Under the theme, 'A Night on the Red Carpet', our students arrived in style, dressed to impress, won academy awards for academic and personal merit and were celebrities for the night. From the grand entrances, to the sequins, sparkle, feathers, the suits and ties, the students made this year's prom, a prom to remember.
Each student received VIP treatment. Snapshots were taken by the ever-present media and paparazzi capturing students upon arrival as they got out of their luxury cars, with the scene emulating the concours d'elegance!
The stars of the night were then ushered to the red carpet where the lights continued to flash as they experienced the glamour of a premiere, leading them to the dancefloor and the 360 photobooth.
In the midst of the enjoyment, the Prom Kings, Queens and Jokers were crowned and adorned with sashes, and, new for this year, the Academy Award winners were presented with trophies for the Kindness Award, the Einstein Award and the Best Footballer Award, amongst many others.
On this special night, we celebrated the coming together of students from all four secondary colleges and made memories to last a lifetime. Prom was a reminder that as a Trust, we have strong community ties and when we unite, it feels like a family reunion. After one of the most difficult educational journeys ever known to the world, the 2022 Year 11 cohort proved their resilience via their capacity for joy. This cohort believes in 'all for one, and one for all'. They celebrated each other like a year group should, and their bonds are insoluble. They epitomise the Trust value of collaboration.
The Director of Post 16 would like to personally thank all of the staff and families who made this event possible, alongside showing gratitude to Nick and all the team at Q Vardis, for allowing the Trust to put on yet another epic prom night. We are already looking forward to 2023!