Year 11 Prom - Tickets Now Available!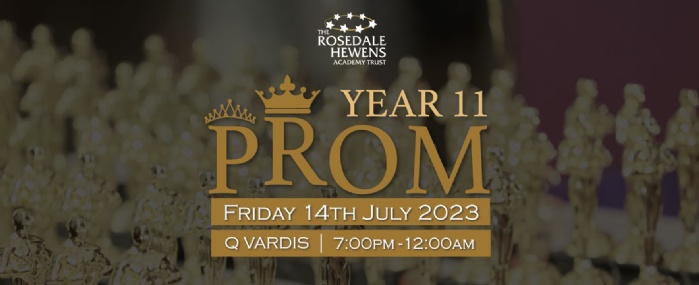 The Rosedale Hewens Academy Trust is delighted to announce the details of the Year 11 Prom, taking place on the evening of Friday 14th July 2023. The event will celebrate the end of the GCSE examinations and will be a time to mark the end of Key Stage Four for our Year 11 cohort.
Students' ability to attend Prom is conditional and will be dependent on the following criteria, which includes the student's ability to follow the college uniform policy throughout the academic year, appropriate behaviour and conduct throughout the academic year and attendance to intervention (as required), internal trial examinations and to all public GCSE examinations. Internal and external exclusions, alongside levels of truancy will also be considered when deciding if student can attend Prom. Ultimately, all students must demonstrate their ability to follow college procedures in order to attend Prom, as it is a privilege.
All of these requirements must be met in order for students to attend the Prom. In cases where these requirements are not met, students will not be allowed to entry to the Prom and payment will not be accepted. Therefore, please ensure that the above is strictly adhered to.
The prom will be held at Q Vardis, Old Mill Lane, Uxbridge, Middlesex, UB8 2JH. The event will start at 7:00pm and will conclude promptly at 12:00am. The theme for the prom is "A Night on the Red Carpet" so students should dress to impress in the colour(s) of their choice. Finger food will be served, including several different meat, fish and vegetarian options. Students will be given one free soft drink with their ticket; however, additional soft drinks may be purchased at students' discretion. In addition to this, a photo booth, with props and a green screen, will also be available for students to take unlimited pictures. These will be placed on a USB and students can collect their pictures at a later date, free of charge. Students will also have the opportunity to experience the trending 360 photo booth, be treated to a special guest attendance and win an award at the mini-awards ceremony! An abundance of teachers will be present in order to celebrate with and chaperone the students. Additional security is provided by the venue to ensure the safety of all in attendance. Inappropriate behaviour at the event will lead to students being dismissed from the venue and denied re-entry. Parents, guardians or carers will be contacted to collect their child immediately. Under these circumstances, a refund will not be issued.
The total cost for students to attend the Year 11 Prom is £30.00 per person and full payment must be received before Friday 9th June 2023. This can be paid via your child's iPayimpact account and a record of the payment should be kept, as proof of purchase.
Upon paying the full amount, students can collect their ticket from the Principal's PA at their College. The ticket must be shown to security on the night, in order to gain entry into the venue. Without the ticket, students will be turned away; therefore, it is imperative that tickets are not lost. Students who attend the Prom in inappropriate attire may be turned away; the dress code is strictly formalwear.
If you consent to the terms and conditions outlined in this letter, and would like for your child to participate in the Prom, please complete and return the reply slip to your child's form tutor, confirming your child's attendance and your acceptance of all terms and conditions, no later than Friday 9th June 2023.
Tickets are now available to purchase via iPayimpact!

Venue:
Q Vardis,
Old Mill Lane,
Uxbridge,
Middlesex,
UB8 2JH
Time:
7:00pm to 12:00am